Phewh, such hectic times behind me... My feet are literally dead from four days in a row of work, one day full of shopping and then partying and night walks. On Saturday right after work, me and Maris and her new buddy from Germany went to town, to chill and stuff, but sadly, it's still my last week being underage and there weren't much places to sit because of that. Then we went to some alternative party, but we were to sober to enjoy it, so we went home.
Yesterday i went shop-raiding and found a bag and jeggings or treggings or however you call them. And in the night, we went to the rooftop cinema to see "Breakfast at Tiffany's". Such and amazing movie, photos will be included in next post! Now i gotta run to my first real driving lessons, wish me luck!
Bag - Reserved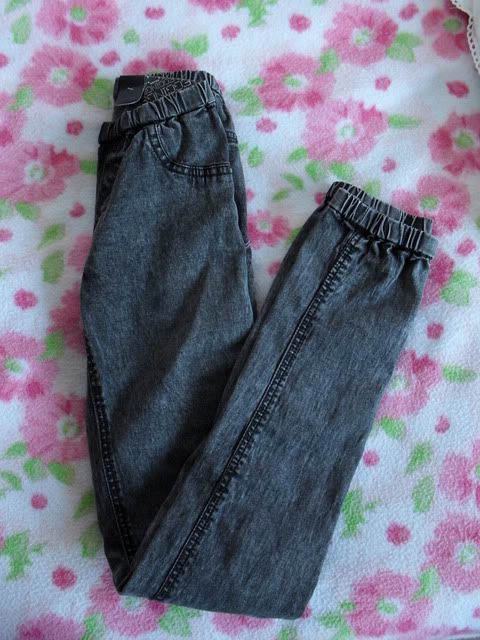 Jeans/leggings - Bershka
Fiuhh, kiired ajad selja taga... Peale nelja järjestikust tööpäeva, üht tervet shopingu päeva ja kaht ööd pidutsemist ja öiseid jalutuskäike on mu jalad suht surnud (ei mingeid kontsi tükk aega nüüd). Laupäeval peale tööd läksime Marise ja ta uue saksa sõbraga linna peale, kuid õnnetuseks olen veel viimast nädalat alaealine ning meil polnud eriti võimalik kuskil rahus istuda. Ühel hetkel läksime Kosmose Puhvetile, kuid me olime liiga kained, et seda nautida ning sõitsime koju.
Pühapäeval käisin poetuuril ning naasin teksaretuuside ja kotiga. Õhtul aga käisin katusekinos "Hommikusööki Tiffany juures" vaatamas. See oli imeline film ning järgmises postituses saab pilte ka!
Nüüd lippan oma esimesse sõidutundi, soovige mulle edu!