I'm pretty sure you all thought i was dead by now, since i've been posting "so often". The truth is, i just fail at planning my time for reasonable things and well... here i am, doing nothing that i should do.
Anyways, i'm feeling better now, the runny nose is gone for now, but after that epic weekend i think i'm grounded 'til March. I just hope my mom has bad memory (well, she does have, my luck i guess), because i'm certainly NOT going to stay at home after that longest week ever.
The tights are from
Besty
, a series where young Estonian artists design a pair of their own. Mine are From Martin Veisman.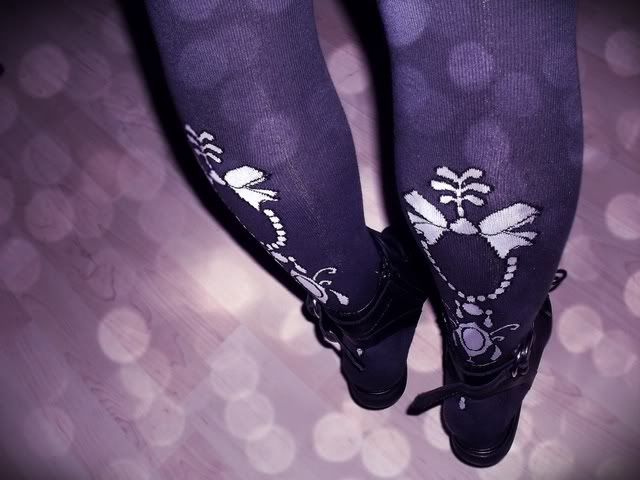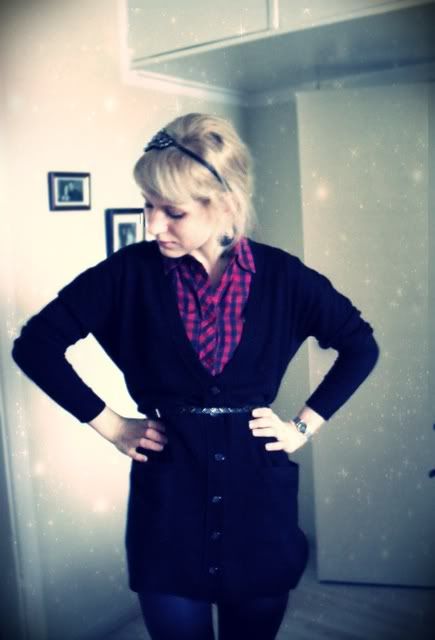 Shirt: Zara, Sweater: Gina Tricot, Tights: Besty, Studded belt: H&M, Headband: Seppälä

Ilmselt pidasite mind juba surnuks, sest ma ju postitan nii "tihti". Tõde seisneb muidugi selles, et ma lihtsalt olen haledalt ebakompetente ajaplaneerimises ning lõpuks tegelen millegi ebamõistlikuga... nii et siin ma olen!
Igatahes, tunnen, et olen nüüd külmetusest lõplikult terveks saanud, kuid peale seda eepilist nv-d olen ilmselt märtsini koduarestis. Loodan, et emal on kehv mälu (teatud asjade suhtes ongi, nii et mul vist vedas), sest ma tõepoolest EI taha enam eriti kodus viibida peale seda ajaloo pikimat nädalat.
Sukkpüksid muideks Martin Veisman'ilt
Besty
sarjast, kus noored Eesti kunstnikud mõnele paarile oma disaini kingivad. Kaasa teevad ka Piret Ilves, Heli Haav, Helene Vetik ja Robi Jõeleht.