I'm sorry for the lack of posts lately, it was just an incredibly boring week. Well ok, the last part was pretty exciting, the weekend and all, but now i'm sick. So here i am, stuck at home, with nothing to do... That's the price of going out.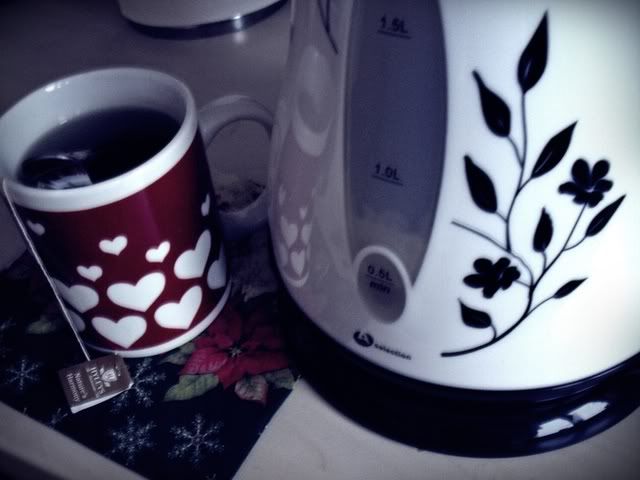 I drank waaaayyy too much tea today, but i'm not gonna stop now! I think it's the best cure for cold.
// Ma olen täna liiiiga palju teed joonud, kuid ega ma ei peatu nüüd ka! Arvan, et see on parim viis külmetuse ravimiseks.
Rereading "Scar Tissue" and a new find : "Let the right one in" by a swede Lindqvist. It's a vampire novel, but nothing like "Twilight" or other wimpy tearjerker stories - it's actually quite brutal and dark.
// Loen taaskord "Scar Tissue"t ja "Lase sisse see õige", mis on kirjutatud rootslase Lindqvisti poolt. See on küll vampiiriraamat, kuid absoluutselt erinev "Videvikust" ja muust sellisest nutusest jamast - tegelikult on see üsna jõhker ja sünge.
Yes, the obligatory materialistic photo. Some of my rings in an somewhat artsy composition.
// Jah, kohustuslik materialismist nõrguv pilt, kus on üles rivistatud mu sõrmused pisut kunstilisemas kompositsioonis.
Palun vabandust väheste postituste eest, aga see nädal oli väga igav. No olgu, viimane osa sellest oli põnev, nädalalõpp ja puha, kuigi selle tulemuseks oli külmetus ja nohu ja kurguvalu. Ning siin ma olen - üksinda kodus ning mul pole midagi tarka ette võtta... Uskumatu, kuid parema meelega oleks praegu koolis. Ehk mitte suusatamas, kuid muudes tundides viibiks hea meelega. Säh siis väljas käimist.